Xerox Star Historical Documents (courtesy Dave Curbow)
The Xerox 8010 (aka "Star") was introduced in 1981. It changed the way office workers used computers by presenting a desktop interface, and a mouse -- now standard on most office computers. I have collected several of the marketing brochures distributed at the time of Star's introduction, 1982. I've also been collecting papers and photos about the Star.
If you'd like to know more about the Star, you might like to watch a video we made in 1998. The occasion was "The final live demonstration of the Xerox 'Star' computer, 1981" held at Xerox PARC n June 17, 1998. This presentation was very popular -- we had 800+ people in the audience, and were forced to turn away more than 100 people because we were out of space. A few photos from that event as well as lots of links to other pages can be seen at a site by another ex-Xerox colleague, Bruce Damer. For a copy of the video contact the PARC PR person. Also see More Links (below)
Marketing Brochures Introducing the Star
The documents below are sales brochures produced in 1982.
In 1985 Xerox introduced new versions of the hardware and software. Here are some brochures from that period.
Xerox also produced other lower-tech products that were cutting edge in their own manner. For example, the Xerox 860 Word Processor was similiar to the Wang systems of the time, but with a WYSIWYG word processor on a 1 page bitmap display.
Other Documents
I have begun collecting historical papers on the development of Xerox software products related to the Star. Some of these papers are no longer available, or are very difficult to obtain.
High Resolution Photos
People have often asked if I have high resolution photos of the Xerox Star. Here are two that were supplied to me by Xerox PARC a number of years ago. You are free to use them for teaching or other non-profit use only. Credit for these photos should be given to Xerox Corporation, and if you'd like to mention this website we'd be pleased.
Commercial usage requires permission from Xerox. Try their Public Relations department (found under Contact Us on the Xerox corporate website.)
These images are in Photoshop format, 300DPI, and may need some color correction depending on your application.
Other Hardware Photos
More Links
There are a number of sites that have material on the Star. I've tried to mention pages with significant content. Thus, I haven't included the many one page reports written by students.
I'd appreciate knowing if any of these links below are outdated, or if you know of any additional ones I should add. Please contact me at dcurbow@acm.orgNOSPAM (remove NOSPAM before sending).
Finally, copyright for some of the material reproduced on this site belongs to Xerox Corporation. (I believe that reproducing these 20 year old documents come under Fair Use, if not, I'm sure someone at Xerox will tell me.)
Last updated July 24, 2006..
© 2005, 2006 Dave Curbow (this site)
See Also: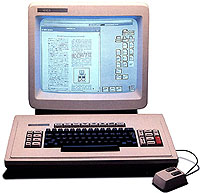 See the DigiBarn Museum's pages on the Xerox Star 8010 (Dandelion) and Xerox 6085/Viewpoint


The Digibarn's extensive collection of Xerox computers and other artifacts