Home | About | Collections | Stories | Help! | News & Links | Friends | Lets Talk! | Events & Visiting | Search
Other Xerox Innovations
Most people don't know about the Xerox 860 Information Processing System. Here's a bit of info.
The 860 IPS (and the slightly less capable 850) was the top-end word processor in the industry, displayed with pride at the head offices of all the big corporations. Many corporate documentation departments depended on this system to produce technical documentation. It's documents could automatically contain line numbers, table of contents, footnotes and outlines. It had a spell check function with 88,000 words in its dictionary!
The full-text monitor could display 70 lines of 102 characters.
It stored working files on one of the two 8" (600 kb) floppy disks. Each disk catalog could store up to 560 documents. (In contrast, the Xerox Star came standard with a 10MB or 29MB Shugart hard drive -- but the 860 was an earlier generation.)
The system was sold with a Diablo printer, which was bidirectional and could print 40 characters per second. Up to three Xerox 860 could share one Diablo printer. The printer spooler could store up to 20 documents waiting to be printed. Later versions could make use of the network created for the Xerox Star system. So, documents could be emailed. The photo below comes from a 1982 Xerox marketing brochure.
Look carefully at the right side of the keyboard. That round circle is a CAT -- a touch sensitive pad that worked like a mouse.
For more info visit the Digibarn's pages on the Xerox 860.
---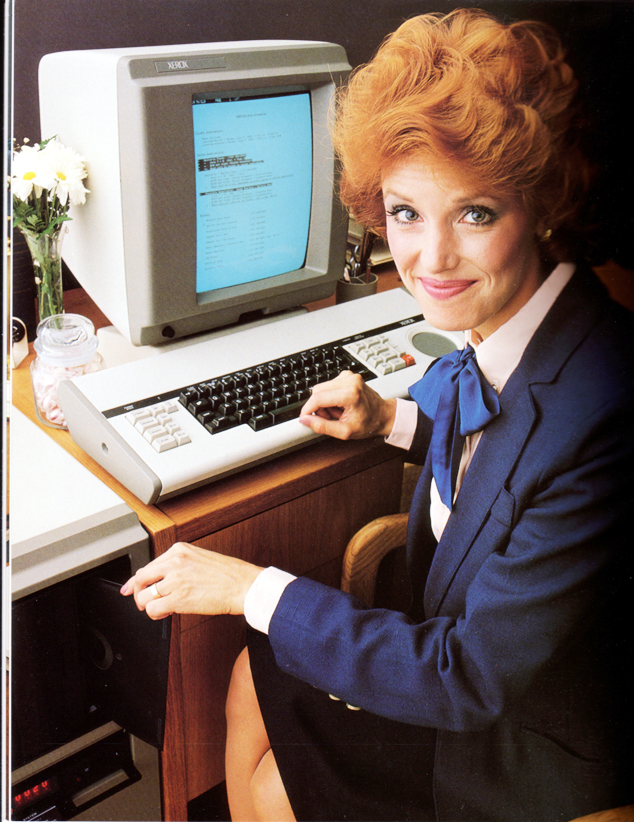 ---
Xerox Memorywriter
For years IBM owned the high-end typewriter market with their Selectric models. Then Xerox, who bought the Diablo printer company, decided to adapt the daisywheel printer to a typewriter. And, for several years Xerox outsold IBM. The Memorywriter was much quieter, cheaper and easier to use. The photo below comes from a 1982 marketing brochure.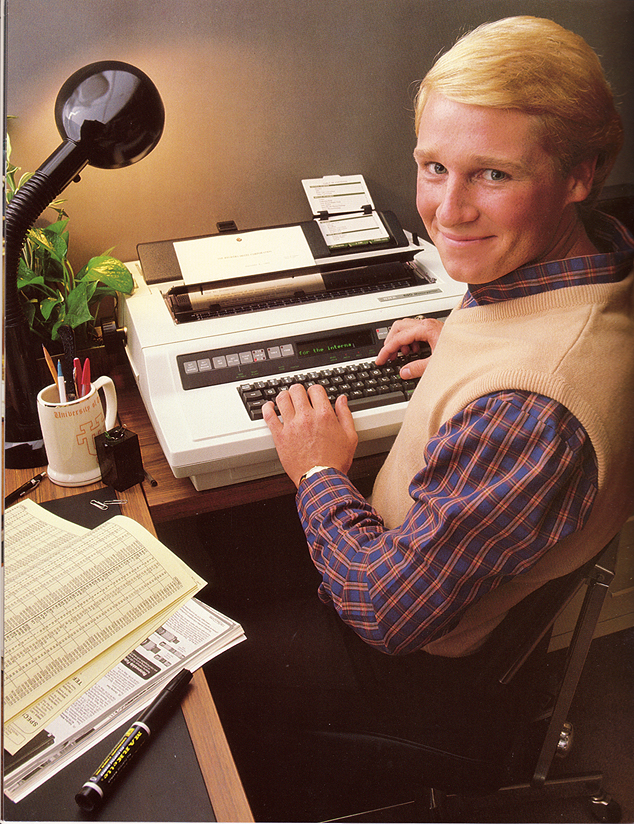 See Also:
Back to Dave Curbow's Xerox Star Historical Documents
The Digibarn's page on the Xerox 8010 Star Information System and the Xerox 860


The Digibarn's extensive collection of Xerox computers and other artifacts
Please send site comments to our Webmaster.
Please see our notices about the content of this site and its usage.
(cc) 1998- Digibarn Computer Museum, some rights reserved under this Creative Commons license.