Home | About | Collections | Stories | Help! | News & Links | Friends | Lets Talk! | Events & Visiting | Search
Xerox Star Keyboard
The Xerox 8010 (Star) had a very innovative keyboard. From the photos below it's obvious how it influenced the keyboards used by Sun Microsystems. Less obvious, but more powerful is the Universal Functions contained in the left cluster -- Copy, Move, Delete, Props, Find, ...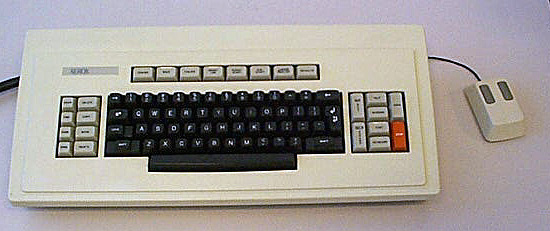 The Xerox Star Keyboard and 2 button mouse.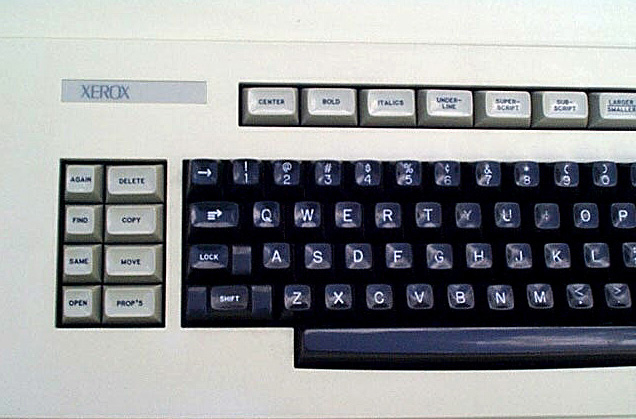 The Left Cluster of Function keys, plus the Soft Function keys above the QWERTY keyboard. These Soft Function keys were remapped depending on the content currently being edited. For example, when editing text the keys would change the properties of the text. However, when editing a drawing, the keys would change to functions such as Create New Line, Create New Circle, etc. The meaning of the keys would be indicated via labels at the bottom of the screen, not shown in this picture.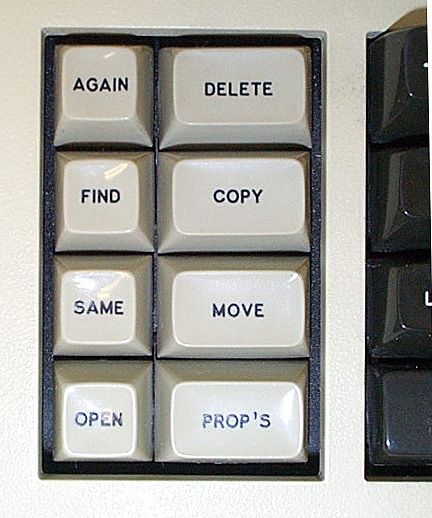 The Left Cluster of Function Keys --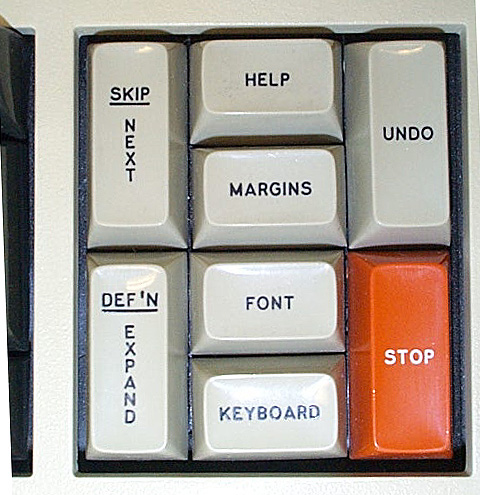 The Right Cluster of Function Keys -- this is the first time an Undo, or Stop function key existed on a keyboard. The DEF'N/Expand key was used with the keyboard expansion dictionary. The Help key is obvious.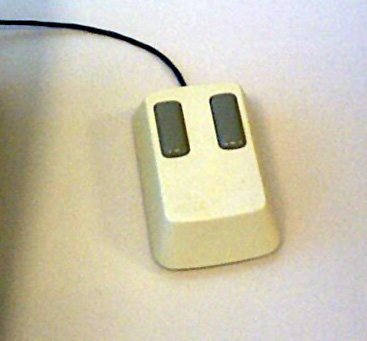 The two button mouse -- user studies showed that three were too many buttons, while one was too few. In one user study conducted by David Schroit (as I recall) the person had difficulty selecting text using the drag-thru mechanism. So, a second mouse button was added -- its function was to indicate the end of the selection. In operation, the user clicked the left mouse button at the beginning of the selection, then mouse the pointer to the point where the selection should end and clicked the right mouse button.
Copyright(c) 1999, 2002 by David Curbow. All Rights Reserved.
Last updated October 15, 2002.
See Also:
Back to Dave Curbow's Xerox Star Historical Documents
The Digibarn's page on the Xerox 8010 Star Information System


The Digibarn's extensive collection of Xerox computers and other artifacts
Please send site comments to our Webmaster.
Please see our notices about the content of this site and its usage.
(cc) 1998- Digibarn Computer Museum, some rights reserved under this Creative Commons license.