More on the Altair 8800 from DigiBarn Visitor Valerie Kramer:

A link in WinXPNews brought me to your site and I've just started exploring it. I enjoyed seeing the Altair 8800 pictures. If possible, I think it would be even better to see one with power on. It just doesn't look as interesting with the lights out. :)
I had an Altair 8800 back in the "good ol' days". A friend and I went to "The Computer Store" in Los Angeles and we each bought one. I remember my carton was numbered "13". I don't know if that was lucky or not but I did get it working eventually. I think I still have some photos somewhere though
I sold the unit off long since. As I recall, I couldn't afford a video card for output (or maybe there were none available yet) so output was via a parallel port to a "TV Typewriter" project I had built from plans in Popular Electronics. Later I switched to an ASR33 teletype that I found at a surplus place in Chatsworth.
Despite the huge transformer and gigantic electrolytic capacitors in the power supply, it wasn't nearly as stable as modern switching power supplies.
I learned that if I plugged the system into the wrong outlet in the house, the system would crash every time the refrigerator came on. It also proved unusable when I tried to demonstrate it in my office at a manufacturing plant. Sometimes the "good 'ol days" weren't all that good!
Rebooting was a royal pain. To load the BASIC interpreter, one had to load in a 21 byte sequence via the toggle switches then run it and hope it loaded correctly which it did about every third or fifth try. I finally sat down and wrote a bit of assembler code to allow me to load memory from the keyboard or to run the standard boot program from ROM. I burned the program one bit at a time into a PROM chip using a 6V battery. I think I had a few other useful options in this monitor-type program as well. It sure made the Altair a lot more friendly!
By the time I was done playing with it, my Altair had floppy disk drives and other refinements. Like most, I have shed most of these pieces of history over the years. I currently still have a couple of CP/M systems boxed up (one including Valdocs) and I keep a couple copies of IBM DOS 1.0 for my retirement fund. :)
Have a a story or special insight on the Altair? Send it to us!
More DigiBarn and outside Altair Resources: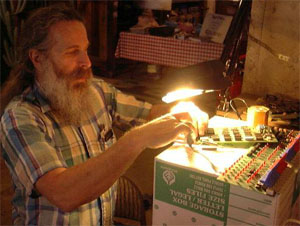 DigiBarn S-100 Restoration Project Initated! (November 2, 2002)


See also our MITS@40 Celebration

Have a a story or special insight on the Altair? Send it to us!