Home | About | Collections | Stories | Help! | News & Links | Friends | Lets Talk! | Events & Visiting | Search
Digibarn Systems: Altair 8800 Logo Nameplate

Thanks Ed Lantz for this lovely original Altair 8800 Logo Nameplate (still with original sticker backing). This is a lovely pristine example in a slight shade of pink, complete with MITS logo. We are loath to take off the original Scotch backing lest we destroy the original pristine-ness so we are gently taping the logo to the front of our Altair 8800.
See Also: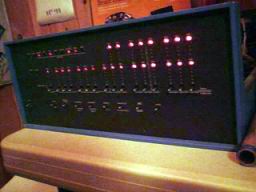 Back to the Digibarn's pages on the Altair 8800
Have a a story or special insight on the Altair? Send it to us!
Please send site comments to our Webmaster.
Please see our notices about the content of this site and its usage.
(cc) 1998- Digibarn Computer Museum, some rights reserved under this Creative Commons license.