| | | | | | | | |
| --- | --- | --- | --- | --- | --- | --- | --- |
| CP/M | SCP DOS | DOS | ProDOS | Scripsit | AmigaOS | TRSDOS | and... |
The Little OSes That Could!
Honoring thirty plus years of tiny Operating Systems that once powered the personal computer revolution
A CP/M Memorial
We are getting going with help from Louis-Luc Le Guerrier of Quebec, Canada, who has provided us with a great kernel of of data about one of the great OSes of times gone by: CP/M.
Digital Research and Gary Kildall
More description here soon!
More description here soon!
More description here soon!
CP/M and its developers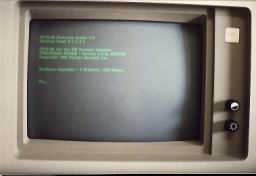 CP/M-86 boot-up on the original IBM PC, Preliminary Release 2.2.5
CP/M-86 screen is the PRELIMINARY RELEASE 2.2.5 for the IBM PC in 1981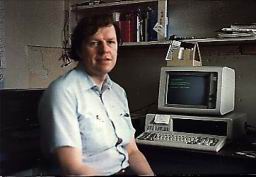 Andy Johnson-Laird at his IBM PC booting up CP/M-86 preliminary release 2.2.5
Andy Johnson-Laird sitting next to his genuine IBM PC with his diskettes and the same boot-up screen.
Louis-Luc Le Guerrier, a historian of CP/M and 86-DOS, writes:
Andy wrote to me last year, I sent him the photos, and he confirmed to me this is a photo of himself and he remembered when they were taken back in 1981. He told me he was in a protected room at IBM, and no one could get there. The diskette could not go out as well, since CP/M-86 was not out yet. I'm sure he was developping CP/M-86 on this exact machine in that room until v1.0 came out in Febrary 1982. He told me he used to put his sandwiches in the same locked drawer where he stored the diskettes when not in use. Andy is now in charge of a forensic science company.
Thanks Louis-Luc for this and the above photographs.
Have a story to tell, an artifact to share or anything else about CP/M or Digital Research? Contact us!
See other resouces at the DigiBarn and elsewhere on the web about CP/M:
Gary Kildall: Some Rare CP/M History (1976-77)

Biography of Gary Kildall and history of Digital Research and the industry

More links here soon!