The DigiBarn's Maze War 30 Year Retrospective
"The First First Person Shooter"
Was held at the Vintage Computer Festival
On Sunday November 7, 2004, Computer History Museum, Mountain View, CA
See our full coverage of this event below
What is Maze War?
Maze War (also known as The Maze Game, Maze Wars or simply Maze) was the first networked, 3D multi-user first person shooter game. Maze first brought us the concept of online players as eyeball "avatars" chasing each other around in a maze). From its humble 1973-1974 origins on the Imlacs PDS-1 at the NASA Ames Research Center in California, to its life in project MAC at MIT, on Xerox Altos and "D* Machines" running on early ethernet, to versions ported to Mac, NeXT and PalmOS, Maze started it all. Today's massively multiuser 3D games owe a great debt to Maze and those who created and kept on porting it to new systems for the past 30 years. Maze is the reason why nobody can claim ownership of the rights to the invention of a multi-user 3D Cyberspace and is another of the major gifts to innovation made by early net pioneers.
What did we do to to Celebrate Maze's 30th birthday?
This event, which was held at the Computer History Museum in Mountain View, California on Sunday November 7th as a part of the Vintage Computer Festival 7.0, honored those who created Maze and kept it running all these years. This event featured a panel presentation, a special birthday cake ceremony and systems running Maze. If you would like to be involved in our retelling of the Maze story in some way, please contact us.
For a great overview of Maze, see Greg Thompson's The aMazing History of Maze:
HTML version of presentation, or
Powerpoint version of presentation (4.4MB)
Panelists for this event which was held at 1:00pm Sunday November 7th included:
Greg Thompson
Howard Palmer
Ken Harrenstien
Tom Uban
Jerry Morrison
Moderator and Introducer Bruce Damer
NEW: Maze/30 Event Report!
Multimedia of the event
Images of the event
NEW: Maze/30 Blog and Wikipedia page!
In an ongoing effort to document Maze and its effect on many people's lives, we have established a Blog, click here and add your story! Johan has kindly created a Wikipedia page for Maze here.
The Nitty Gritty of Maze
The DigiBarn has been gathering artifacts, running systems and stories about Maze for several years. We invite you to explore (and add to) this growing online exhibit which is featured at the links below.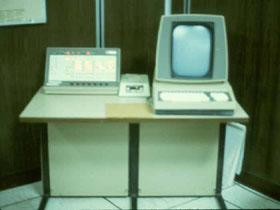 NEW: Steve Colley describes the origins of Maze at NASA's Ames Research Center (1973-74).
NEW: Dave Lebling describes Maze's life at MIT (1974+).
NEW: Jim Guyton describes Maze at Xerox (Alto and Star).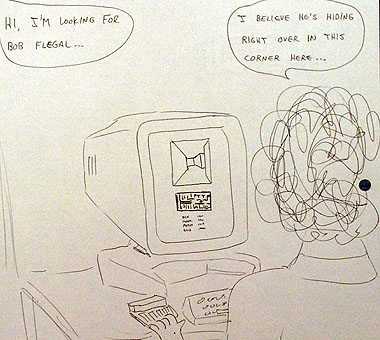 Ted Kaehler's cartoon about Maze use at PARC about 1980 on Alto with keyset! Click here for story.
NEW: Greg Thompson's Document Scans on Imlacs, and Maze in its various incarnations
Auerbach report on the Imlac PDS-4

Sitrick Patent on networked game consoles

Photo documentation and brochure on Project MAC at MIT (early to mid 1970s)

Hardware version of Maze (MIT, 1976-77)

Imlac black and white and color instruction set cards

Pages on MacroMind Mazewars

Callisto Super Maze Wars (for Macintosh)

Oracle Maze (for Interop 1992)

Other Maze implementations including email threads and notes on the NextStep MazeWars, MazeWar for Alto, Invideo MazeWars for PalmOS, Maze for AtariST, and Snipes.
See much more detail at our online exhibit:
Our Online Exhibit about Maze War
How we got started: a printed Screen Shot
Origins and ports of Maze War
Howard Palmer reports the True Early History of Maze War!
Maze War on Alto at Xerox PARC (notes from David Maynard)
Others Comments on Maze War
Maze War Lives Again!
More Maze War Links
And more...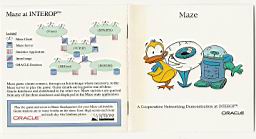 Maze at INTEROP in 1992, thanks to Oracle and Ken Harrenstien
Want a preview of what this event may be like? See our Alto 30th birthday party at the VCF in 2003.
Know any more about Maze? Contact us!