Home | About | Collections | Stories | Help! | News & Links | Friends | Lets Talk! | Events & Visiting | Search
KIM-4 by MOS/Commodore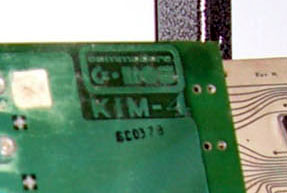 The DigiBarn thanks Eric Johansson for this contribution of a rare KIM-4 motherboard (extender) for the KIM-1 (for adding S-100 boards to a Kim-1). From George Page's notes on Commodore:
The first computer marketed by CBM. It had been developed by MOS Technologies prior to MOS' acquisition by CBM (1977). It was basically a bare-bones 6502 "trainer". 1K RAM, 2K ROM. With the optional KIM3B memory board & KIM4 motherboard were expandable up to 65K.
Know anything more about the KIM-4? Please contact us.


Know anything special about Commodore or the KIM-4? Contact us!
See Also:
See also our KIM-1s and
the DigiBarn's full collection of Commodore computers and artifacts
Our Kimsi, for extending the Kim-1 or Apple-1
George Page's notes on Commodore which mentions the KIM-4 motherboard
History of the MOS and Commodore KIM-1 series
on the excellent Commodore Computer history site commodore.ca
Please send site comments to our Webmaster.
Please see our notices about the content of this site and its usage.
(cc) 1998- Digibarn Computer Museum, some rights reserved under this Creative Commons license.