Comments on the KIM-1 from enthusiast Torstein Moshuus (May 2003)
There was a descendant to the KIM-1 that deserves a place in your collection. It was made under contract to Rockwell International and sold by their microelectronic division as "AIM-65" for the purpose of promoting their 6502 range of cpu and support chips. The computer was rather unique in that it had both a printer, a 40 digit display and a full qwerty keyboard. In fact it had features that were missing with the KIM-1 , but it never got to the market in volume although I believe some 10' were made. In fact the whole story of Rockwell Internationals foray into microelectronics is not well known. Based on know-how from military contracts Rockwell had in fact a complete microprocessor ready for the civilian market at the same time - may even have been before - Noyce and Intel announced their first Intel 4004 4 bit processor. You should be able to dig up a specimen of this AIM-65 also in UK. I know that it was being sold there in some numbers.

Curators note: we found a great page on the AIM-65 here.
More KIM-Stuff!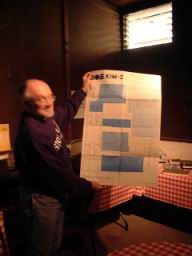 Peter with original KIM-1 Schematic

Know anything special about Commodore, MOS or the KIM-1? Contact us!
See Also:

The DigiBarn's full collection of Commodore computers and artifacts
Our pages on the Kim-4 and Kimsi
See also: Peter Jennings and his donations
History of the MOS and Commodore KIM-1 series
on the excellent Commodore Computer history site commodore.ca