IBM 5120 Computing System (5110 model 3)
This is a weighty predecessor to the IBM PC (5150) which was launched in 1981. The 5120 on the other hand was rolled out in February 1980 and featured dual 8 inch floppy drives. In 1975, the same year as the MITS Altair, the IBM 5100 was the first "personal" system and featured a tape drive and large cabinet. The 5110 followed and it and the 5100 featured an APL language support option.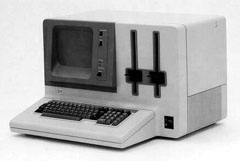 More on the 5120 from thisIBM archives page:
Two years after launching the 5110, IBM introduced its 5120 Computer System in February 1980 as the lowest-priced IBM computer to date. A representative configuration — which included a main storage capacity of 32,768 characters of information, a 120 character-per-second printer and the BASIC programming language — could be purchased for less than $13,500. Overall system prices ranged from $9,340 to $23,990.

The 5120 Computer System featured the new desktop IBM 5110 Model 3 computer and two previously announced products: the IBM 5103 models 11 and 12 bidirectional, matrix printers; and the IBM 5114 diskette unit with up to 2.4 megabytes of direct access storage.

Along with the 5120, IBM also rolled out in February 1980 six new application programs to help businesses perform such tasks as inventory, billing, payroll, accounts payable, accounts receivable and general ledger accounting.
Thanks Carol Christy for the donation of this wonderful historic system, a true "missing link" before IBM adopted the "open architecture" of the IBM PC 5150.