External Views
The "guts": Wiring and Boards
The wiring and boards were assembled in Chippewa Falls, Wisconsin in the USA and key members of the manufacturing crew included women skilled in weaving and the other fabric arts. These women would work in teams to do the amazing job of wiring the backplane of this machine. You can see from the photos below how densely packed this wiring is. Seymour Cray chose these women for their skill level, patience and perfectionist tendancies. Wiring comes in lengths of 1, 2 and 4 feet, corresponding to 1, 2, and 4 nanosecond delays for signals to propagate between and through the boards in the processor columns. The piping fixtures were for the freon cooling of the boards (coolant would run up and down the "fins" drawing heat from the edges of the copper-substrate boards. Each Cray-1 contained over 3,000 boards. A full height subfloor (so that a person could walk in underneath) was required to service the unit. The transformers (wedges with naugahyde (tm) over plywood coverings) were fed by power from the Power Distribution Unit (PDU) which in turn was fed by a deisel generator set. The processor tower itself was loaded and unloaded with numeric calculations by a large supporting general purpose computer such as a CDC 7600 (also designed by Seymour Cray).
The Power Distribution Unit (PDU)
The Power Distribution Unit is a cabinet about 7 feet tall that distributes power to the transformers (the "bench seat" like wedges at the base of the processor tower. Our PDU records that the Cray was powered up for just about 67,941 hours. Voltage levels can be set for individual power lines to the transformers.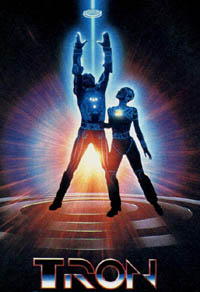 DigiBarn's Cray (#38) as featured in the film Tron (1982)
Know anything more about the Cray 1 Supercomputer? Contact Us!
See Also:
Our pages on the Cray-1 Supercomputer and memorabilia
Back to our main site on the Cray Supercomputers at the DigiBarn