Apple Macintosh (and Lisa) Preliminary Business Plan
(July 1981)
This is the preliminary business plan for the Apple Macintosh and Lisa computers prepared by Joanna Hoffman for Steve Jobs in July of 1981. Joanna tells us that after Steve kept sending her back the plan saying he didn't like it, she realized that it was not the contents he objected to but the look of the document. Joanna knew there was one place in Silicon Valley where she could create good looking documents on a personal computer and that was at Xerox Palo Alto Research Center (PARC) using a Xerox Alto computer and printing on a networked Dover laser printer.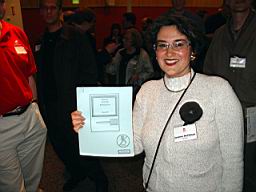 Joanna Hoffman and her preliminary Macintosh Business Plan
So Joanna spent several late nights using an Alto in the PARC the office of a friend. She produced a document that Steve approved of and that had some of the look and feel of the computers they sought to produce (the Macintosh and the Lisa). The document contained pulldown menus as a directory to the major sections and a number of other nifty graphs and charts. Joanna says that she was really nervous that someone at PARC, having need for more disk space, might erase (or discover) her document as it sat on a shelf on one of the Alto removable disk platters.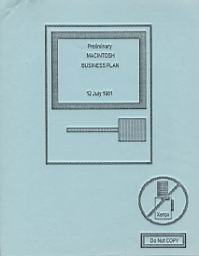 Cover of the Macintosh Preliminary Busines Plan
written in July 1981 by Joanna Hoffman
There is great irony here. One part of this irony is that to create a vision for the world's "insanely great" system that would bring forth the use of graphical user interfaces, the mouse, and more, to the masses, the Xerox Alto (which had all these things for eight years before) was used to craft that business plan.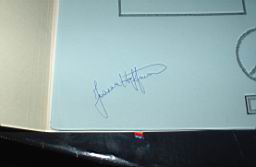 Mac business plan signed by its author, Joanna Hoffman
Another irony is that on the cover of this business plan, shown above, Joanna created the graphical symbol "Do not Copy" showing a "No Xerox" icon probably representing a copier. This could be taken in a one of several meanings beyond the normal dictum controlling copies of a sensitive business plan.. ie: "let's beat Xerox at their own game", or "don't emulate Xerox, do something different" or "lets put Xerox out of the game". This business plan definitely deserves its place in history.
This plan covered the product features, timelines and resources, and placement against competitors then in the marketplace. Ironically this business plan was written only weeks before the August 1981 introduction of the IBM PC, which was to be the Macintosh's (and Apple's) main competitor. The IBM PC was developed under a cloak of secrecy only possibl from IBM so there is no mention of the PC in the Macintosh preliminary business plan.
Note that for reasons of sensitivity and confidentiality, the entire business plan is not available on the DigiBarn web site but can be accessed in person at the museum by qualified researchers. Contact us if you have a need to review this document.