Tribute: passing of Wes Clark, computer designer & friend to the DigiBarn (22 Feb 2016)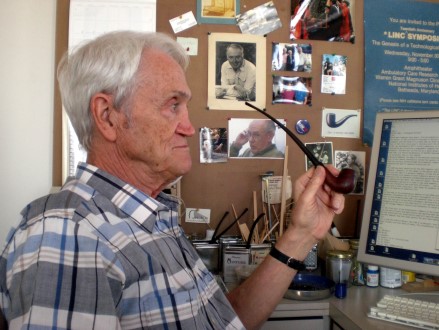 Wesley A. Clark, Computer Designer and "father of personal, interactive computing"

With his work in the late 1950s and 1960s designing the TX-0, the TX-2 and the LINC, Wes Clark created the first experience of what we today call "personal, interactive computing." Using the TX-2, Ivan Sutherland created Sketchpad, the ancestor of all interactive graphics systems, which was an inspiration for Douglas Engelbart's later oN-Line System at SRI. The LINC is considered to be the first workstation, built by the user from a kit, then transported to a lab, office and even used in a home. Alan Kay wrote that "..the feel of the LINC was the feel of personal computing." When we interact with the screen of a computer or touch a tablet or phone today, we are experiencing a vision first brought to life decades ago by Wes Clark.
A Personal note from DigiBarn founder and curator Dr. Bruce Damer
When we heard the news, Galen and I stood by the LINC in the DigiBarn for a quiet moment of remembrance and deep appreciation of a truly great man who humbly with humor, wit and genius changed our world (and who would rap your knuckles for saying so).
Find memories and tributes from friends and colleagues at our Wesley A. Clark Memorial Site
Significant News Media Stories:


New York Times (Feb 28 2016): Wesley A. Clark, Made Computing Personal, Dies at 88


TechRepublc story Wesley A. Clark, legendary computer engineer, dies at 88
See our pages on the LINC here
Wesley A. Clark page on Wikipedia