Home | About | Collections | Stories | Help! | News & Links | Friends | Lets Talk! | Events & Visiting | Search
CBS San Francisco (KPIX) Evening Magazine show crew and taping
July 6, 2004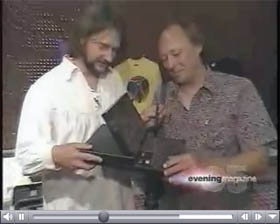 View this program segment here

The DigiBarn was featured on the CBS Affiliate KPIX (San Francisco) program Evening Magazine (This show aired on Nov 30, 2004). Below are some pictures of the crew who produced this excellent segment. Marla Tellez is pictured in the center and Bruce and Galen and Allan Lundell on the right.
Please send site comments to our Webmaster.
Please see our notices about the content of this site and its usage.
(cc) 1998- Digibarn Computer Museum, some rights reserved under this Creative Commons license.