!-BLOBBER>
Home | About | Collections | Stories | Help! | News & Links | Friends | Lets Talk! | Events & Visiting | Search
DigiBarn Friends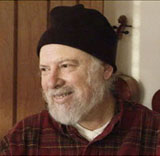 A Remembrance of Jef Raskin, by Larry Tesler



Although I first met Jef in the 1970's, I really got to know him in the summer of 1980 when he generously provided his home, his music, and his sage advice to Bill Atkinson and me for two productive days during a crucial phase of the Lisa user interface design. He was a rare gem who brought crisp vision, contagious enthusiasm, and generous support to engineers and artists alike. He catalyzed the lives and the careers of many, and will be greatly missed.
Please send site comments to our Webmaster.
Please see our notices about the content of this site and its usage.
(cc) 1998- Digibarn Computer Museum, some rights reserved under this Creative Commons license.