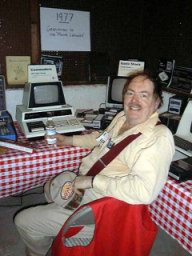 Ed Thelen at the Commodore PET 2001 series which he helped bring back to life for the DigiBarn grand opening
I regard the generation of P.E.T, Apple II, TRS-80 as much superior for young (and old) folks 'cuse you could so easily teach them do something that THEY created, as opposed to running some precanned program that nobody - least of all the authoring team - understands.
Teaching some one using a PET class machine type out:
"Hello *MY* world"
took something like 30 seconds!
Remember, you did not even have to buy/install a development kit, much less struggle to define project, understand the MAKE file system, GUI, and heaven only knows what.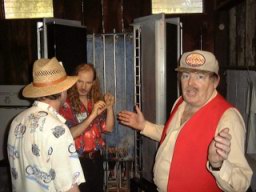 Ed being a Docent for our biggest member of the collection, the Cray 1!
See Ed Thelen's home page and incredible historical computer documentation including a reproduction of our Cray 1 manual and see Ed in Action with the 2001 here:
Ed Thelen is a keen supporter of both the Computer History Museum and the DigiBarn having brought our PET 2001 series back to life and docent-ed at our grand opening.
- Bruce
See Also:
Our Commodore PET 2001 series