Home | About | Collections | Stories | Help! | News & Links | Friends | Lets Talk! | Events & Visiting | Search
Set of Signatures molded into the inside of the
Macintosh 128K case
Thanks to avid Mac and Lisa document collector David Craig for providing us this image of the signatures included in the interior of the initial 128K Macintosh case. These signatures were molded into the case and included here (gradually disappearing) for several generations of Macs through to the SE. Rumor has it that Steve Jobs' signature was displaced by a power plug on the SE model. The Mac II and other Macs with case designs different from the 128K did not carry any signatures inside. Curiously, this document is marked "February 10, 1982" which may indicate that it is an early capturing of team signatures. It would be interesting to see "who made the cut" in the final case.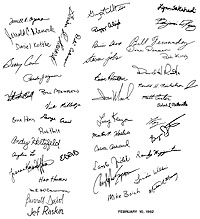 Click here to see a medium sized view of these signatures
or
Click here for super hirez view.

See Also:

Our Macintosh 128K

Our special story on the Mac at 20 anniversary

Please send site comments to our Webmaster.
Please see our notices about the content of this site and its usage.
(cc) 1998- Digibarn Computer Museum, some rights reserved under this Creative Commons license.