"Running With the Apple" about the Puma RS-Computer Shoe
(Article from InCider #55 July 1987 p63 by Field, Cynthia E)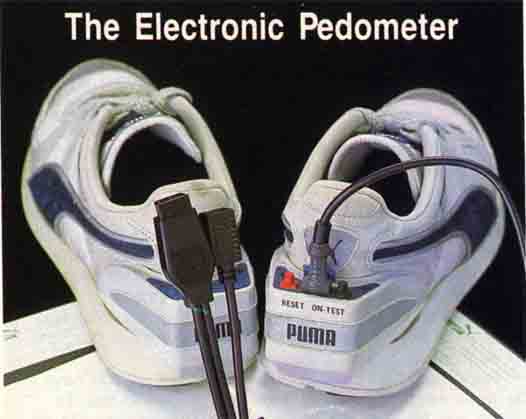 Click for larger view of the photo from this story
The Puma RS-Computer Shoe looks like a traditional running shoe-with a bad case of heel spurs. A compartment is built into the right heel and houses a compact battery-powered circuit board that functions like a pedometer. Black "On-Test" and red "Reset" buttons protrude from the compartment. A tiny plastic lid protects a recessed four-pin interface port.The companion left shoe is similarly styled, but its compartment is buttonless and empty. Like that of the other compartment, its cover is secured to the shoes heel extension by two small Phillips screws. This empty compartment might be handy for keeping your ID, change for a phone call, perhaps a spare house key,if you didn't have to carry a screwdriver to open it.A detachable cable connects the RS-Computer Shoe to your Apple. The "computer" end terminates in a 16pin connector that plugs into the game I/O port inside the Apple II Plus and lIe. An adapter cable for the Apple IIc isn't available, according to the manufacturer.The RS-Computer Shoe is accompanied by copyable software on a 5 1/4-inch disk. Like the other products reviewed here, the RS-Computer Shoe program requires a bare-minimum Apple system: 48K, one floppy drive.Main-menu choices help you Read/Write Shoe Data. Enter Running Data from the Keyboard, Review/Edit Monthly Goals, Review Monthly or Annual Stats, and Create New File/Data Disk. You calibrate the shoe's supporting software by performing about 15 initial runs with the shoes; each time you must connect the right shoe to your Apple via the cable and follow the instructions the program provides.The RS-Computer Shoe and accompanying software, first released about two years ago, have run into the share of problems. According to a spokeswoman at The Locker Room, a retailer in Willowbrook, Illinois, testing of new software this spring has held up shipments to her special-order customers. According to the retailer, there have been problems with the operation of previous versions of the program.According to a Puma spokesman, you can't purchase the shoe from your neighborhood athleticfootwear store. Instead, Puma will provide the name of its sales representative for your territory, or you can order the shoe from The Locker Room. At $200, and with uncertain reliability and limitedavailability, the RS-Computer Shoe and its software maynot be your best investment. For a lot less money, youcould purchase a new pair of running shoes and one or more of the three stand-alone runners-software prod-ucts reviewed here. -C.F.
Puma RS-Computer Shoe
Puma USA, Inc.
492 Old Connecticut Path
Framingham, MA 01701(617) 875-0660
The Locker Room
329 West 75th Street
Willowbrook, IL 60514
(312) 920-1127
$200

Reader Service Number 311


Click here for the scanned image of this article
Thanks Apple Vault for scanning these items in!
Know anything about this item? Contact us!