Milisa Rollins, possibly the last user of a TyRego system, writes:
I like working with it. I worked on it for 3 years and in the beginning it was hard.. I'm 31 so I hadn't really worked with DOS 3.2 and had really forgotten about the "old" technology so I had a huge learning curve. I think the most frustrating is the constant crashes and the drives getting bad sectors and dying. We do complex forms and there is a memory (I guess) limit on how many variables you can put on a page so it will still convert and also if there are too many fonts it won't convert. Over the years we have had many crashes and bad sectors so the functionality has diminished (like we can't do sideways text anymore) but we work around that when we get the form into COBOL. I'm the only one that will tear the machine apart and fix it, so I have a special relationship with TyRego and keeping that machine running!
Richard Gardener, provider of the TyForm system to the DigiBarn writes: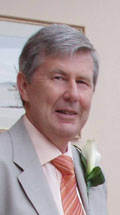 Richard Gardener
A brief history, including the advent of Tyform
1946 – Born in Penzance, Cornwall
1965 – Left home to join Leyland Motors for a year's industrial experience prior to starting my degree course.
1966 – Started Mechanical Engineering studies at Southampton University.
1969 – Graduated with BSc in Mechanical Engineering. No computing experience other than using an analogue computer for some tribology studies.
1970 – Returned to what was by then British Leyland, joined R & D department and later seconded to Rover Cars where I had my first encounters with digital computers, using GEISCO timesharing, a 10cps Teletype terminal and BASIC.
1971 – Back at British Leyland, carrying out Noise & Vibration research & development for new bus project. No computing, lots of empirical work with tape recorders and spectrum analysers.
1973 – Qualified as Chartered Engineer; Member of Institution of Mechanical Engineers.
1974 – Joined Acoustic Technology as an Industrial Noise & Vibration Control Consultant, wher I started to use finite element analysis for projects related to offshore oil rigs in the North Sea. This involved the use of SDRC software on the Comshare timesharing service via 10cps TTY.
1977 – Joined Comshare to carry out support & marketing for SDRC and other engineering packages. Most jobs of any significance had to be submitted for batch processing on serious mainframe systems at US Steel in Pittsburgh, via a transatlantic link to Comshare HQ in Ann Arbor, Michigan. This was well before the Internet and we felt very much "at the cutting edge of technology". I have a very clear memory of a dinner party when I proudly linked a "portable" (large suitcase size & weight) 30cps (wow!) terminal to the operators in Ann Arbor and had a live "chat" to find out the status of a particularly urgent job – Microsoft Messenger eat your heart out!
1979 – A market appraisal carried out by my manager and myself to determine Comshare's commitment to engineering products concluded that it did not fit into future plans for the company (mainly they did not want to run a couple of massive Cray computers), so I then began to take on more general technical support and application development.
1980 - 85 – Comshare acquired one of the first Xerox 9700 printers in the UK and I became involved with application development for volume laser printing. This included the use of the XICS typesetting software and, latterly, trying to convince the company that it needed Metaform or, later, Tyform for offline job development. However, the laser printing service was a victim of its own success, as the logistical requirements of material handling for large mailings etc overcame the available facilities. A deal was struck for the business to be sold but I was not part of it, as I had already been approached to set up a new facility for one of my clients.
Also during this period I had started to play around at home with the very early personal computers – Sinclair ZX81, Acorn/BBC, early IBM PC.
1986-1990 – I established and ran a laser printing department for Copyprint UK Ltd but neither Metaform, Tyform nor Elixir were considered likely to be cost effective by the company principals. After 4 years I had become disillusioned and was in discussions regarding setting up in partnership with an existing sole operator who needed some additional capability.
1990 – A number of things happened at the same time: I had recruited and trained a competent operator to run the Copyprint machines; my prospective partnership deal failed to materialise; a client wanted to contract a 6 month project to me, wherever I was working; I had reasonable computing facilities at home and someone rang, out of the blue, to ask if I knew anyone who could take over the finance on a Tyform/EZPrinter set up. Hence, I made the decision to establish my own operation from my spare room and things fell into place very nicely, with Tyform as the essential ingredient. By the turn of the Millennium, though, the need for Tyform had virtually disappeared; there was no support or replacement hardware available; jobs were being transferred to laser printers online as MS Word mailmerges; data was being moved around via the internet rather than half-inch mag tape; and so the Tyform system was sitting in the corner gathering dust since then.
2005 – Severe domestic pressure was being applied for the Tyform system to be taken to the tip to free up some space. I had, previously, had a few abortive attempts to locate anyone who might be looking for spares at least, but in May, having agreed to scrap it at the next week-end, I decided to have one more trawl of the Web and, lo! & behold, some outfit in California was actually looking for a working Tyform system. I filled in the contact form, thinking that the system could well not be working and, anyway, no-one would want to ship a big monitor etc across the Atlantic, but back came the desperate plea "Don't take it to the tip!!" from Bruce. To cut a long story short, it was still working and it was shipped over to the Digibarn in July 2005.
Know anything more about TyRego or TyForm? Contact Us!