Home | About | Collections | Stories | Help! | News & Links | Friends | Lets Talk! | Events & Visiting | Search
Seattle Computer Products Gazelle
Thanks Larry Dersh for this great donation of a truly historic machine. More here soon on the Gazelle from Larry!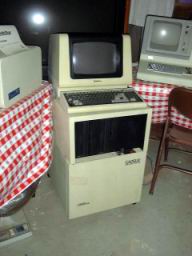 The SCP Gazelle in its new home at the DigiBarn
(right next to the IBM 5120 and IBM PC 5150)
Please send site comments to our Webmaster.
Please see our notices about the content of this site and its usage.
(cc) 1998- Digibarn Computer Museum, some rights reserved under this Creative Commons license.