A detailed look inside (and attempt to boot the PowerExpress up)
Well, we finally got the system hooked up to human interface peripherals and... oops, it doesnt boot, looking for a floppy. Providing the PowerExpress with a System 7.1.1 system install disk causes it to simply reject the disk. As would be expected with a discarded internal prototype, Apple probably deleted the entire contents of the internal system (C) drive. There is a very large (for late 1997) and very fast secondary hard disk mounted on the bottom of the case, presumably for video files, but we didnt attempt to mount this drive. The unit has perhaps one of the first DVD ROM drives, an engineering sample of a PowerPC processor (275 Mhz) from Motorola mounted on an add-in card with a huge heat sink (labeled "Goleta", is this the first G3?), a custom clear plastic reset button and several other features. The promised souped-up video editing version of the MacOS (System 7.6.?) was not available. Oh, and another feature, this PE has a staggering .5GB of RAM, very large for any computer of the time.
See Also:
PowerExpress forum on AppleFritter.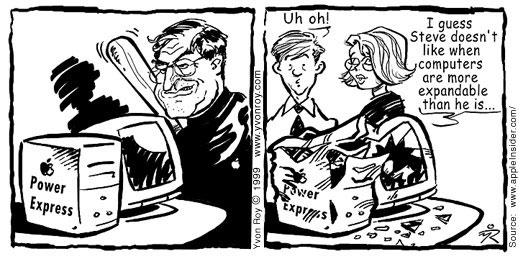 AppleInsider comics on the demise of the Power Express
By Yvon Roy, May 3rd, 1999
VisionPower PowerExpress systems developed by Apple and Motorola for Asia (not related)
Know anything about this video editing prototype PowerExpress? Contact us!
A comment from Gregg Eshelman:
Apple apparently had just finished the engineering sample or pre-production stage and was within a month or less of churning them out when they drop-kicked it and went for the cut down to 3 PCI slots (but designed from the start for the G3) Beige G3 Desktop and Tower. The Power Express was all set to be the next Mac that the 9500/9600 power users would upgrade to when Apple decided that nobody needs more than three expansion slots.
https://www.applefritter.com has some info on one and others have changed hands on eBay.
AppleFritter Forum posting on PowerExpress Manhattan Prototype
PowerExpress Manhattan was to be the next evolution of the Power Macintosh desktop line, due to replace the Power Mac 7300 with the new PowerExpress architecture.
In 1996 when Apple was working on the PowerExpress project, it was planned to be based on two motherboard configurations. PowerExpress was the more widely known, 6 PCI slot tower board. PowerExpress Manhattan was virtually unknown, as a 3 slot version of PowerExpress, designed to be put in desktop and mini-tower configurations. Though it is not known when Apple killed the PowerExpress Manhattan design, it is very similar to the Gossamer (Beige G3) board design, and the Power Macintosh G3 (Beige) Series got its start from it.
The PowerExpress was supposed to be a melding of technologies, blending the best features of the 8600/9600 series (processor card upgradability, 6 PCI cards on the PowerExpress tower) and next generation systems (SDRAM, G3 optimizations, upgraded DAV capabilities). With a quick glance and untrained eye, the PowerExpress Manhattan motherboard looks virtually identical to that of a Power Mac 7300/7500/7600. The main difference that sets it apart is the new DAV slot, located behind the top PCI card slot. The slot itself is labeled "VCI" likely meaning "Video Component Interface" (similar to Peripheral Component Interface, or PCI), and would have provided additional bandwidth for faster and better video cards to be used.
PowerExpress Manhattan contains many unique chipsets not found on production Macs. Some, like Heathrow, Denali, and Screamer, were used on other Macs such as the Power Mac 9600, where as other ones, such as Radical, Nine99, Kaos, Fatman, Little Boy, and 53C860 are native to the PowerExpress Manhattan board. It is also obvious that Manhattan, Fatman, and Little Boy are all references to the Manhattan Project, the United States Nuclear Weapons program, which took place during the 1940's. (Fatman and Little Boy were the names of the two atomic bombs dropped on Japan in 1945)
Though I have yet to be able to get PowerExpress Manhattan to boot successfully, it does have an altered Chimes of Doom. Thanks to the help of fellow 68KMLA member and AppleFritter contributer jt, we have also been able to obtain the boot chime of a PowerExpress tower, which likely is also on the PowerExpress Manhattan.
A comment from Mark Crutchfield (May 2006):
I saw several postings to the effect that you have the only working PowerExpress prototype in existence. Well, I hate to bust your bubble, but I have had one for several years that I obtained in some surplus equipment that came from Motorola. It is missing the G3 275MHZ card, but runs fine with a 604 processor card. It boots from either SCSI bus, the IDE bus or from CD. It is quite stable and I actually used it in my business for a while.
Know anything about this video editing prototype PowerExpress? Contact us!
See Also: