Yeah. Expensive, and a bit of a pain in the ass. That's what I remember about those old Intel tools.
From Jonathan Snively (July 2005)
Hello,
Saw your blue mystery intel drive. I suspect it is part of a mysterious intel computer ("intellec") that I know little about. Where I used to work we had one high up on a warehouse shelf, shrink-wrapped, palletized, etc., and I do remember that drive unit (with 8" floppy drives). I wanted the thing badly but never got the balls to ask for it! I tend to think it disappeared, probably to some engineer's basement. Anyways, found this link with picture: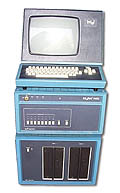 Curator's note: the complete Intel Intellec MDS 80, note bottom unit below CPU and monitor is our disk drive!
(click for larger view) found at the following address:
https://www.mynewoffice.com/pcmuseum/antiques.htm
https://www.mynewoffice.com/pcmuseum/IntelMSD472.jpg
Googling "intellec" may yield more info.
-Jonathan
From Evan McNulty (July 2005)
The mystery blue Intel box is an Intel MDS-2DS dual diskette drive. There is next to no reference to this unit anywhere that I can find. It might be a bit too involved but this equipment is mentioned at being used in US Patent 4199816 (search at uspto.gov)
From Michael Superczynski (Aug 2005)