Home | About | Collections | Stories | Help! | News & Links | Friends | Lets Talk! | Events & Visiting | Search


Compupro System 8/16 and documentation by Godbout Electronics
Thanks Mark Butler for donating his father's Compupro System 8/16.



The Compupro System 8/16

Front panel

Rear showing large number of ports

Serial number

Interior of S-100 system showing
full rack of cards

DSC07219.JPG

A loaded Compupro

DSC07221.JPG

DSC07222.JPG

Compupro with monitor and keyboard

DSC07226.JPG

Dual 8 inch drives and new replacement drives

8085/8088 combined CPU board technical manual

Description of dual processor


The Compupro 8085/88 CPU board

Lots of extra boards!

DSC07232.JPG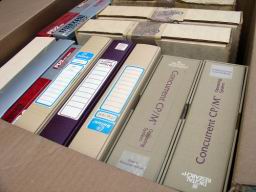 Box of Compupro software and documentation
See Also:
Our S-100 Multiprocessor the largest S-100 system ever built
(and it is built out of Compupro boards!)
Please send site comments to our Webmaster.
Please see our notices about the content of this site and its usage.
(cc) 1998- Digibarn Computer Museum, some rights reserved under this Creative Commons license.