Home | About | Collections | Stories | Help! | News & Links | Friends | Lets Talk! | Events & Visiting | Search
BSi-III Portable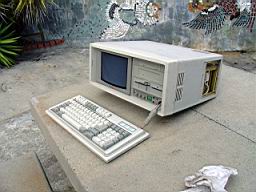 The BSi-III
We do not have any information about this system except that the typstyle of the nameplate suggests it is some rebranding of a Compaq system. We did find references online to Broadax Systems Inc, a ruggedized, industry and rack-mounted computer manufacturer in the City of Industry, California, and their history site seems to suggest this is one of their earlier models. Know about the BSi-III? Contact us!


More Shots
See Also
Our early Compaq and IBM 5155 Transportable
Please send site comments to our Webmaster.
Please see our notices about the content of this site and its usage.
(cc) 1998- Digibarn Computer Museum, some rights reserved under this Creative Commons license.