First we look at file management on the Lisa system. Files, collections of files, and peripherals appear in a separate window. The user can dynamically manipulate the window in several ways.
This series of screen captures shows creating a chart using the Lisa Graph and Lisa Draw programs.
Additional pop-up menus for the Lisa Draw program.
A document being prepared using Lisa Write.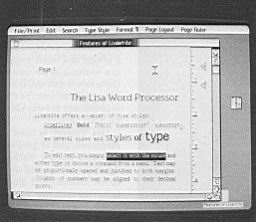 photo6.big.jpg
The Lisa Project Manager program. The first photo below shows a simple PERT chart with tasks on the critical path being heavily outlined and the second photo shows a Gantt chart, which shows personnel utilization; the third photo shows the kind of typical error message used throughout the Lisa system.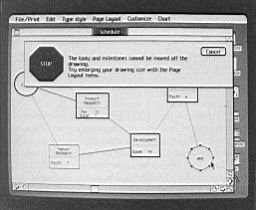 photo7c.big.jpg
The Lisa Calc program. The first photo shows a spreadsheet and the second shows the same spreadsheet after the "Show Formulas and Values" command is executed.
The Lisa List program, a single-user list-management program.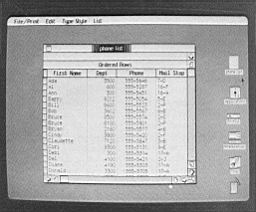 photo9.big.jpg

See Also
Our Lisa II/XL