Ethernet Tap and Transceiver
(from Xerox PARC, 1970s)
Thanks Ken Pier and Tracy Kugelman of Palo Alto Research Center for this donation!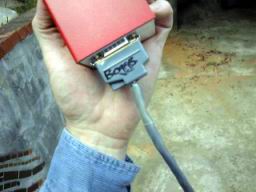 An extraordinary artifact, the ethernet tap (drop) into Ethernet co-inventor
Dave Boggs' office (connecting to his Dorado)
note "Boggs" written in felt marker on the connector
From what I was told on my visit to PARC on June 19, 2003, Ken Pier (who joined Xerox PARC in 1976) relayed that these Ethernet taps (drops) and transceivers were being taken out of the ceiling at PARC. Ken noted that these were not the original Ethernet taps, those were cream colored and connected the all-Alto network (with devices like the Dover laser printer).
I deduce from this that this network was put in to support the Dorado and the D0 Dolphin and later Dicentra and Dandelion. Therefore this network would support 1MB, 3MB and 10MB speeds.
More here soon about this artifact!
Images of the artifacts