Home | About | Collections | Stories | Help! | News & Links | Friends | Lets Talk! | Events & Visiting | Search
Digibarn Parts: Data General Nova Core Memory
(early 1970s)
We are grateful to Bob A. Schelfhout Aubertijn for sending us this "mattress" of core memory from an early 1970s Data General Nova machine. This has to be some of the highest density core and fascinating to see it alongside the up and coming integrated circut technology, which would soon supplant core as the storage medium of choice. Below you can see Ken Sumrall, who works with the Computer History Museum, opening up the cover plate to expose the core mattress. Bob writes about his donation:
Inside the pack is the 1972 Ferrite Core board, well packed between 2 cardboards, and I've included 2 Ceramic and Gold processors as well [Burroughs]. The images show you the complete board with the core centre opened up for display purposes, the core mattress in close up, the indication that it's a 16k memory stack from 1972, and the core as seen through a microscope, a Wild Heerbrug M420, shot on Kodak Ektar 25.

Our images of the DGC Nova Core Memory board
Also from Bob: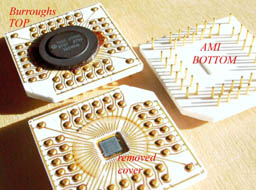 See Also:
The Digibarn's TDK Core Memory
Please send site comments to our Webmaster.
Please see our notices about the content of this site and its usage.
(cc) 1998- Digibarn Computer Museum, some rights reserved under this Creative Commons license.