Digibarn Devices:
CalmPute by Thought Technology Ltd.
Thanks Al Lundell for the donation of this CalmPute GSR Biofeedback Training system, designed by Hal Myers of Thought Technology Ltd. in Montreal Quebec, Canada. See the whole Biofeedback 5 system below.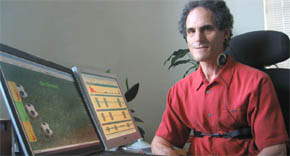 Hal Myers from a story in the Montreal Gazette
Also see Allan Lundell on Digibarn TV explaining how the GSR device worked with an Apple II.