Home | About | Collections | Stories | Help! | News & Links | Friends | Lets Talk! | Events & Visiting | Search
DigiBarn Devices: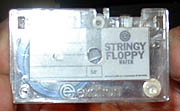 Exatron Stringy Floppy as described by Bill Fletcher
The Extratron Stringy Floppy was actually a wafer thin tape cassette digital storage medium (but tape was passe in the 1978 time frame) so it was called a "stringy" floppy (a floppy but all strung out, see!? Campbell Union high school teacher (retired) Bill Fletcher models and describes the Stringy Floppy, here used with the Tandy TRS80 Model 1 from Radio Shack. This was a preferred storage device for the TRS80 Mod 1.


Bill Fletcher and the Stringy Floppy (MP3 file)


Know anything about the Stringy Floppy? Contact us!
See Also:
Our TRS80 Model 1
Smugmug dissecting of the Stringy Floppy and another page on the Stringy Floppy
Please send site comments to our Webmaster.
Please see our notices about the content of this site and its usage.
(cc) 1998- Digibarn Computer Museum, some rights reserved under this Creative Commons license.