Home | About | Collections | Stories | Help! | News & Links | Friends | Lets Talk! | Events & Visiting | Search
DigiBarn Stories:
Dwight Elvey (and his son) dumping the SacState 8008 PROMS (Sept 2010)
Thanks Dwight for making this all possible. Note: Dwight is using a system based on the Intel 4004 (a 4 bit microprocessor of the same general time frame as the Intel 8008 8 bit microprocessor) to dump the PROMs from the SacState system, cool eh?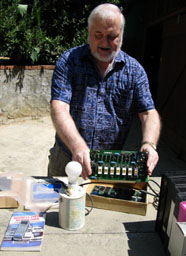 Back to SacState 8008 listing and to SacState 8008 Story

Back to Digibarn Stories
Please send site comments to our Webmaster.
Please see our notices about the content of this site and its usage.
(cc) 1998- Digibarn Computer Museum, some rights reserved under this Creative Commons license.