Home | About | Collections | Stories | Help! | News & Links | Friends | Lets Talk! | Events & Visiting | Search
Historic Apple Computer Pins and Badges
(1970s-1980s, Apple II, Lisa, Mac, etc)

The following is an online collection of historic Apple Computer pins and badges which document the history of Apple events and computer systems. Click on each pin or badge to get a larger view and possibly for more information (if we have it). We would like to acknowledge AppleLore & the Computer History Museum for some of the images of pins on this site and Daniel Kottke for providing many others. If you have any more pins we could include here or the story behind any pin please contact us.

Apple II
Macintosh
Lisa
General
Badges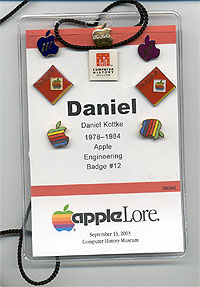 Daniel Kottke's AppleLore event Badge
Input from Digibarn virtual visitor Don (April 1006):
I noticed in your apple pins exhibit that you are missing a couple of pins that you may not be aware of:
1. There is a pin issued to original Apple "factory reps" before they started using rep firms for a short time. The pin is the rainbow lapel type but has an R w/circle on it, in gold.

2. There is also a "purple Apple Lisa Pin" without the word Lisa on it, that was given to dealers that went to the first school for training on the Lisa after signing up to add it to their existing apple product line(s).
I had both of these pins but they were burned up when my home burned to the ground in the 1996 "harmony grove" California wildfire.
Just some info that you might be able to use.
Got a cool pin or other schwag to contribute or a story about an item shown here? Contact us!
See Also:
Go back to our main collection of badges, buttons & pins
See our The Mac at 20 site which contains our complete Macintosh archives here at the DigiBarn.
Please send site comments to our Webmaster.
Please see our notices about the content of this site and its usage.
(cc) 1998- Digibarn Computer Museum, some rights reserved under this Creative Commons license.