Allan Lundell, co-founder of the DigiBarn Computer Museum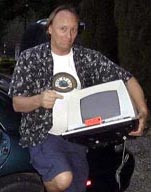 Allan Lundell bringing in computers to initiate the DigiBarn on May 7, 2001
More from Allan here soon!
Allan and his lovely partner Sun's personal page is here at PleasureIsland.com
Allan Lundell is my partner in crime and co-conspiritor in the creation of the DigiBarn Computer Museum. It has been a pleasure to know Allan since 1994 and to have worked with him on many projects. Allan's network of friends in the computer and new media fields is so vast that it would take a big database project just to categorize them all. In the next few months, Allan will begin to upload some of his consciousness from the computing history field, including many seminal and historical articles written by him since 1980 when he was the first west coast editor of Byte Magazine.
- Bruce Damer, DigiBarn Curator