A Proposed Digibarn Special 30th Birthday Event
Apple@30-A Flashback to the earliest days of Apple:
From the "Bedroom to the Boardroom"
(with the Livingroom, the Garage and the Club in between)
all in 1976, what a year!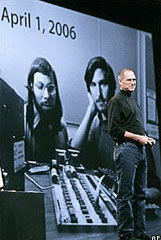 Steve Jobs noting the 30th anniversary of the founding of Apple at a Macworld keynote in early 2006
(see BBC story "Never mind the OS X" on Apple's 30th birthday)
Apple Computer, Inc. was founded on April 1, 1976 and to celebrate that event thirty years ago the Digibarn will be taking a very personal and up front peek at the earliest days of Apple both before and after that fateful April Fools' Day back in '76. We will take a journey with those who were there, from the first meeting of "the Steves" (Jobs and Wozniak) at the Homebrew Computer Club, to the building of the precursors to the Apple 1 and then the Apple 1 single board computer, the establishment of the company, the first assembly and sales and promotion of the Apple 1 and then the point where the company really took off... 1976, what a year!
So we kind of look at it as a journey from "the Bedroom to the Livingroom to the Garage (with trips to the Club in between) and thence to the first Office!"
We hope to assemble a steller cast and crew to present this to you at the annual Vintage Computer Festival 9.0 planned for November 4th and 5th in Mountain View California. Want to know what we are going to do... see our past birthday events here.
Stand by for updates on this event!
If anyone out there was there and/or has insights into Apple in '76,
please get in touch, we need your help!