Home | About | Collections | Stories | Help! | News & Links | Friends | Lets Talk! | Events & Visiting | Search
Macintosh 512k Logic Board Schematic
(Daniel Kottke et al, February 1983)
The following is one of the most rare and special documents here at the DigiBarn, the only known copy of the complete schematic specification of the 512K Macintosh Logic Board. Daniel Kottke co-authored this design which served as the basis for the 64K Macintosh prototypes and then the 128K launch Macintosh in January 1984. This may be the last major computing system completely designed on a single sheet of paper (with all the ins and outs specified for the chips). The original D sized diagram has not been found but Daniel provided us with a smaller facsimile of the same time period. Legend had it Steve Jobs ordered a 128K logic board to be designed but the engineers, knowing that the first adopters of the Mac would upgrade their memory quickly, designed it to house 512K to allow upgradability. See more pictures of Daniel Kottke's early Apple Macintosh circuit boards here.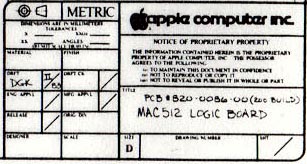 Detail of corner of diagram showing "DGK II/83" signifying Daniel G. Kottke, February 1983.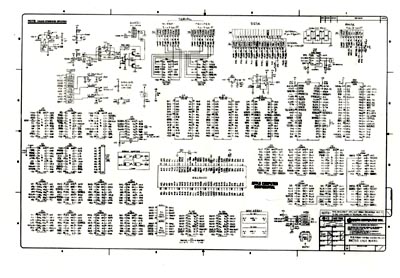 The D-sized diagram, click for a larger view


Please send site comments to our Webmaster.
Please see our notices about the content of this site and its usage.
(cc) 1998- Digibarn Computer Museum, some rights reserved under this Creative Commons license.