BASIC Computer Games by David Ahl
David Ahl's BASIC Computer Games was one of the first highly addictive and fun books written for the computer hobbyist. Many a midnight hour was spent keying in these games into their favorite S-100, PDP-8, CP/M, Apple II or other systems supporting various flavors of the BASIC language. Most of these games were simple graphics or text-based although a few classics like Conway's game of life propagated to a new generation of silicon ecosystems thanks to this classic book by David Ahl.
See artifacts from our 1978 (microcomputer edition) and the original 1973 first printing below.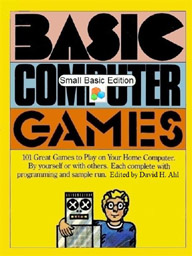 New for 2010: A new eBook edition of Basic Computer Games is available now. "Basic Computer Games - Small Basic Edition" Programmer's Edition eBook is a Small Basic translation of the original "BASIC Computer Games" book originally edited by David Ahl.
From Phil Conrod of the eBook project:
I read somewhere that the original Basic Computer Games book sold over 1 million copies. That means there are a lot of old developers (like me) out there who spent many nights getting very familiar with the original book. Many of us old programmers cut our programming teeth using BASIC and the book cover alone should promote a lot of nostalgic feelings (or curses!) with a million potential readers. Of course that will depend on how many typos they made when typing them in originally (before the convenience of cut & paste). Most folks will fondly remember the iconic robot illustrations by George Beker (see below).


Chomp! by George Beker from Basic Computer Games
- Curator: Thanks Phil!