CBS News interview on Xerox Star
April 24, 2003, New York
Aired April 27, 2003
On Thursday April 24, 2003 I taped a short segment for an "almanac" segment with Charles Osgood to be aired on CBS Morning News on Sunday April 27th, 2003 at 9am EST. This segment was about the launch of the Xerox Star 22 years ago.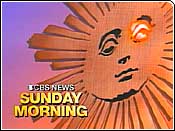 The show is described here at CBS News Sunday Morning. and you can see the streaming media of the show here.
[ Prev ] [ Next ]